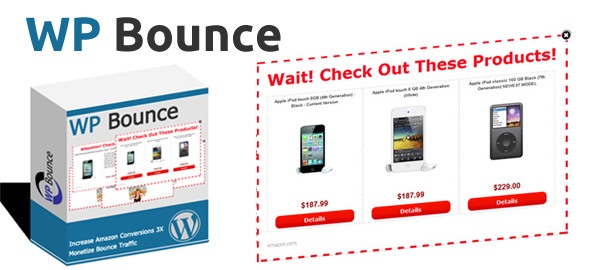 WP Bounce – Turn Your Bouncing Traffic Into Happy Customers
Don't You Hate Bouncing Traffic? – those visitors who come to your site and immediately hit the back button?
Wish you could do something about that?
With WP Bounce you can
Turn Your Bouncing Traffic Into Amazon Sales!
[SOLD OUT]
Just Watch This Video
What You Get With WP Bounce:
From Keyword Generation to Product Selection - All Automated

WP Bounce generates keywords based on post/product content automatically. They are used to pull relevant products from amazon.com. Just install WP Bounce once and it will take care of everything else.
Geo Location Aware - Clicks and Sales From International Visitors

WP Bounce knows what country visitor is from based on user's ip address. It can automatically pull products from amazon.com, amazon.co.uk, amazon.ca, amazon.de, amazon.fr, amazon.jp, amazon.es., amazon.ch, amazon.it sites. Never lose a sale from international visitors again!
Laser Targeting - Brings Huge Click-Throughs and Sales

WP Bounce picks up SERP keywords and uses them to pull relevant products from amazon.com. Huge CTRs that lead to huge amount of Sales!
[SOLD OUT]
All My Plugins Come With 30 Days Money Back Guarantee
If you use any of my plugins for 30 days and you're not satisfied with it for any reason just contact me and I will refund your purchase in full.
The risk is all on me.
Your purchase is protected by 100% money back guarantee.
Available Add-Ons (optional – click "Add To Cart" to include)
You may already know that standard Amazon cookies only last 24 hours.
This means you are getting paid only for spontaneous purchases people make the same day you refer them.
It really sucks if you compare it to other affiliate programs which give you at least 30 days on top of better referral rates.
90 Days Amazon Cookie Add-On will turn Amazon links in the pop up into "add to cart" links. When users click and confirm cart action they get a cookie in their browser that lasts for 90 days. You will get credited commission when users complete their purchase any time during that 90 days period.
Click Add To Cart and get even more sales with this add-on.
[SOLD OUT]
Ready to promote eBay products?
Now you can make more sales by participating in ePN program. This add-on enables ePN support for WP Bounce.
Perfect solution for monetizing visitors from countries that Amazon doesn't support.
Click Add To Cart to enable ePN with this add-on.
[SOLD OUT]